Dr. Matthew Robison Loves Helping Patients In His Hometown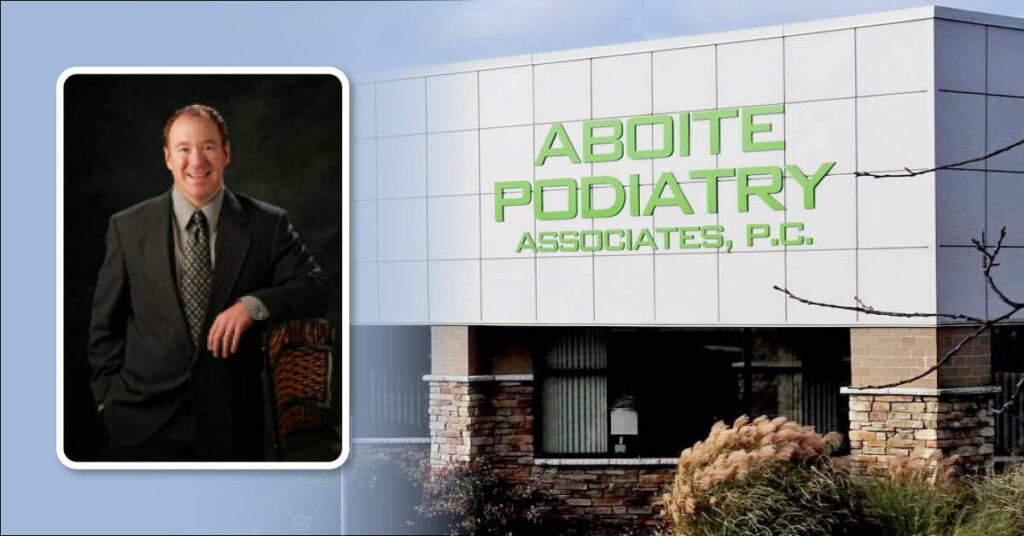 Dr. Matthew Robison knows a thing or two about dealing with injuries.
"I had a good friend growing up since grade school, and he said he doesn't know how I made it out of childhood because it seemed like when someone got hurt it was always me," he says with a laugh. "The dirt bikes, the BMX stuff, the skateboarding – we had some pretty wild activities."
Dr. Robison is the owner of Aboite Podiatry in Fort Wayne, the town he's always called home.
He and his three brothers grew up here, and he attended Paul Harding High School. All four Robison brothers were very into sports: they all played hockey and Matthew was into wrestling, tennis, BMX bike riding, and skateboarding.
"My parents didn't have a whole lot, but what they did have they put into us," he says. "We were into sports, and all the things that we wanted to do, they tried to find a way to let us do it."
His dad was a steelworker and his mom was a homemaker. His family – especially his parents – has always been important to him. It's the major factor he attributes to the success he's had in life.
"Even today I thank them for everything they did to help raise us," he says. "Family structure, parents all the way down, is huge."
Dr. Robison has three children of his own now, two daughters and one son. He's glad to have been able to spend a lot of time with them and share his love of sports with them. He coached travel hockey for about 13 years and then coached high school hockey for several years.
His kids keep him busy, and he says he's thankfully been able to make about 90 percent of their activities, a fact that he's proud of. His wild activity days slowed down a bit since he had kids, but he's not afraid to race his brother around the yard if challenged.
"With three kids, it's hard to get time for a lot of my own hobbies," Dr. Robison says. "I've been playing a lot of guitar lately."
He's been playing a lot of solo stuff recently, drawing inspiration from Steve Vai, Joe Satriani, and Paul Gilbert. At his core, he confesses, he's an 80s hair band kinda guy. It's true — Dr. Robison really rocks!
Matthew received his bachelor's degree in chemistry from Indiana University and was the first person in his family to graduate from college. In the meantime, he got a job working at a hospital in order to shadow doctors and find out what the healthcare industry was like. That's when he met Dr. Ravindranath Bathina, a cardiologist in Fort Wayne.
"He was just a wonderful person," he says. "He made you want to practice medicine like him."
Dr. Robison says that Dr. Bathina inspired him to continue his studies in the medical field. He originally wanted to go into cardiology, but he ultimately decided to go into podiatry.
"I think cardiology would have been awesome," he says. "But being on call like they are would have prevented me from spending time with my kids and coaching and doing the other stuff I get to do."
He loves what he does, and he says he's thankful that he's been able to have a job that has been a perfect fit for his life while being able to help people.
His patients are like his extended family. Dr. Robison finds it rewarding when he's able to connect with the patients he serves. He's always willing to spend the extra time to get to know them.
"You can blow in and out of a treatment room and just treat the medical condition or you can actually try to find a connection with your patients," he says. "I enjoy finding a connection with the patients."
He recalls meeting with a patient who had a severe medical condition. The two started chatting and connecting over religion while in the treatment room.
"He said that he just about called and canceled his appointment that morning," Dr. Robison says. "He said he was so happy he came to see me, and he felt that it was no accident that he made it in that day."
Connections like that are what lets Dr. Robison know he's making a difference in the lives of his patients.
"Sometimes people touch you that way," he says. "It can be fixing their medical condition, or it can be something like that, where you're offering support for other things they're dealing with."
Are you interested in being seen by Dr. Matthew Robison? Schedule an appointment with him today.