Dr. William Arthur Blazes A New Trail At Aboite Podiatry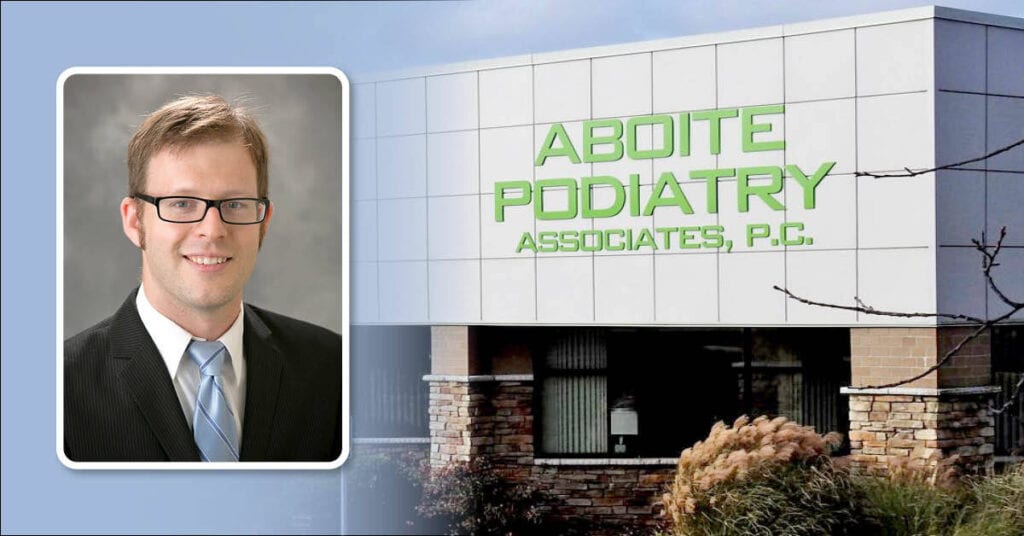 Dr. William Arthur wanted to be a firefighter.
His grandfather, Bill Langmeyer, was a firefighter (a well-known one in Fort Wayne). His uncle was a firefighter. Even his best friend was a firefighter.
During his senior year at Concordia Lutheran High School, Dr. Arthur was taking classes at Anthis Career Center to become a firefighter. Then, the law changed in Indiana that required a person to be at least 21 years old to apply to become a firefighter. Dr. Arthur needed a new plan.
"I didn't know what to do at the time, I thought I was going to do that," he says. "I didn't really know what to do after that.
He ended up going to Ivy Tech's Fort Wayne campus and took EMT training courses. During one of his ride-alongs in the ambulance he was on a call where the patient was unconscious, not breathing, and didn't have a heartbeat.
"That was the first time I did chest compressions, the first time I ever bagged [mask-airway] someone. By the time we got to Lutheran Hospital, he was breathing and had a heartbeat. He was still unconscious, but we brought life back into him," Dr. Arthur says. "To me that was the most profound moment. I thought: 'If my hands can do this, then I can do so much more than fight fires.' So I switched over to IPFW for premed."
INFLUENCES OF THE PAST
Dr. Arthur had two different lives when he was growing up.
One life was here in Fort Wayne with his mom, where he attended school and spent most of the year. The other was down in Florida with his dad during breaks from school.
Summers in Florida for Dr. Arthur consisted of sailing trips with his dad down to the Keys or to the Bahamas. They'd anchor off the coast of Bimini and go deep sea fishing and diving.
"I've always loved being by the ocean," he says. "I really miss those days. Those were the best days of my life, I think."
While he was in school, he played a lot of soccer, rode his bike everywhere, and did a lot of distance running. It wasn't until he was at IPFW did he think that he could turn those passions into a job.
After attending IPFW and receiving a bachelor's degree in biology, he made the choice to study podiatry.
"I applied to four different schools for podiatry, two in the Midwest, one on the east coast and one on the west coast," Dr. Arthur says. "I had already spent a lot of time in the Midwest and the east coast, so I decided to attend school in California."
THE SUN SHINES
It was in California where Dr. Arthur met his fellowship director, Dr. Amol Saxena, in Palo Alto.
Dr. Saxena helped high-level athletes with their injuries. He introduced Dr. Arthur to new practices in podiatry and they worked together to heal patients with traumatic injuries. Dr. Saxena became like a second father to Dr. Arthur.
"He's the most inspirational guy I've ever met," he says. "He's published over 120 articles on the foot and ankle, he's been in multiple journals and magazines, and people travel from outside of the country to see him. He's been a huge inspiration and role model to me."
It was with Dr. Saxena that he first learned about shockwave therapy, a technique that he's brought to Aboite Podiatry. The device looks like an ultrasound machine and operates by sending ultrasonic acoustic waves into the body to stimulate it from the inflammatory stage into the proliferative stage — what's known as the healing cycle.
"It exponentially boosts your body's potential for healing," he says. "Shockwave is awesome."
No other podiatrist office in the state of Indiana uses an ultra-focused shockwave device yet, according to Dr. Arthur. He trained on the device on athletes while he was in California and treated conditions ranging from tendonitis to plantar fasciitis. There's growing evidence that it has an effect on arthritis and can also be used in wound care, according to Dr. Arthur.
"To be able to see the difference in patients getting shockwave therapy done is incredible," he says.
BACK TO HIS ROOTS
Dr. Arthur is new to the practice at Aboite Podiatry.
He moved back to Fort Wayne from California with his wife, his son, and his daughter in the middle of the summer during the pandemic.
He's looking forward to making a difference in the lives of his patients here in Indiana.
"I feel lucky that Dr. Robison and Dr. Monroe are willing to take a chance on my new ideas and invest in me," he says. "I feel fortunate to be a part of their team."
Dr. Arthur certainly hasn't taken a linear path to where he's gotten in life, but he says that he'd gladly do it all over again. He says that through his experience that with passion and dedication, anything is possible.
"There have been a lot of great things in my life I never thought I'd do," he says. "If you're passionate enough about something and believe in it and you put your mind to it, you can accomplish those things."
Are you interested in being seen by Dr. Arthur? Schedule an appointment with him today.