Stay Active This Spring While Keeping Foot Health Top Of Mind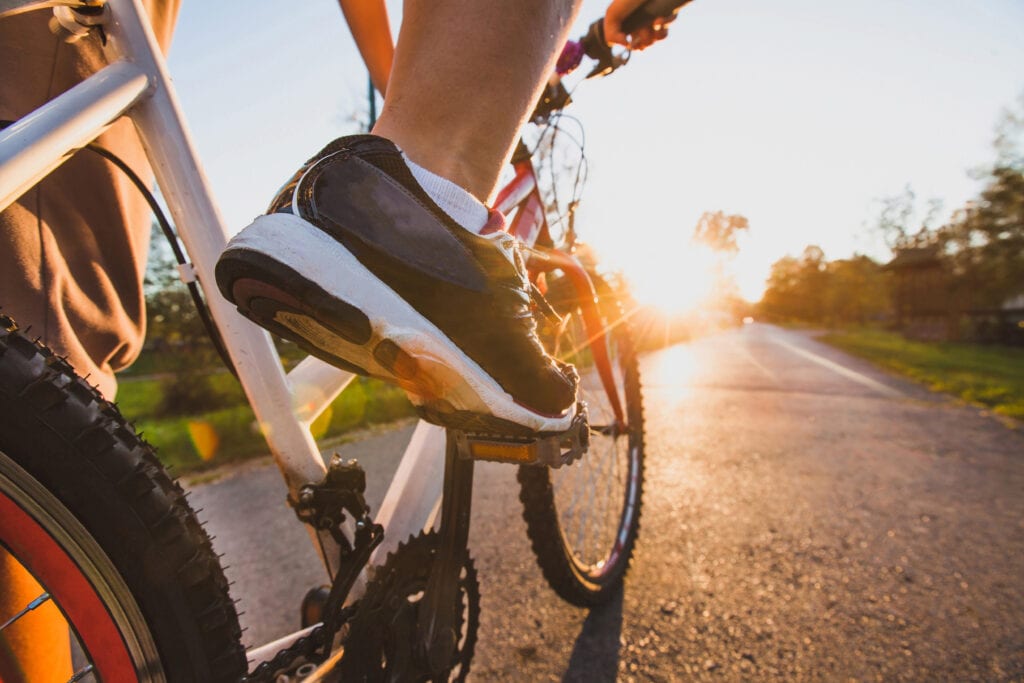 As the weather warms up and the outdoors begins to look more inviting, our thoughts naturally start heading toward outside activities.
It's important to care for our entire bodies, though, so keeping foot health top of mind while you're staying active this spring is a good idea.
The U.S. Department of Health recommends that adults get a mix of 150 minutes of moderate intensity aerobic exercise and 2 days of muscle strengthening activities each week. They've even created a handy digital planner to help you schedule your exercise activities.
Below are a few exercises you can do this spring to help keep the impact on your feet low while still meeting your exercise goals.
SWIMMING
If your feet or ankles are hurting you, or you need to take special care to avoid injuring them, swimming and other water sports are for you.
Your body becomes buoyant when you swim and do water aerobics, which takes all the pressure off your feet, ankles, and joints. Swimming gives you a great cardiovascular without the risk of injuring your feet.
If you don't know how to swim, you can still do exercises in the shallow end of a pool. The water provides a natural cushion for your joints, feet, and ankles and helps prevent sore muscles too.
YOGA / TAI CHI
Yoga is a great way to increase your flexibility, improve your balance, and keep you in good health. Be aware that some poses may put stress on your feet or ankles, so take it slow and build up to more complex poses.
You can find many yoga and tai chi videos on the internet you can follow along with, but ideally you should work with an instructor to make sure you're using proper form.
RIDING A BICYCLE
Bicycle riding offers a little flexibility when it comes to exercising in the spring.
If you have an indoor, stationary bicycle, you can stay active even if it's raining and storming outside. A scenic outdoor bike ride can't be beat, though, if the weather is nice.
Riding a bike is a great option when thinking about healthy exercises to protect your feet because your weight is spread amongst your arms, back, and hips. This is a great activity to do in a group with friends or family, which can make time fly by quickly.
LIFTING WEIGHTS
Lifting weights is a great strength-training activity that can be done while you're seated.
Whether you're using free weights, machines, or resistance bands, you'll be working to build and maintain your muscles. Don't forget that your lower body needs strength training, too (don't skip leg day!).
Consider scheduling an appointment with a fitness professional if you're unsure about how to get started lifting weights at home. They can teach you proper form and can help you assess which exercises are safe for you to begin with.
ELLIPTICALS OR ROWING MACHINES
When you're using an elliptical, your feet will stay in a stationary position, which means you avoid a lot of the stress from pounding associated with activities like running.
Whether you use a rowing machine or actually go out on the water to row, you're going to be getting a great cardiovascular workout. Rowing will fully engage almost your entire body while putting almost no stress on your feet.
WALKING
The great thing about walking is that it's free, easy to do, and you can do it just about anywhere. You can walk alone or as part of a group to give yourself company and to motivate yourself to get out and about.
Walking is much easier and has a lower impact on your feet than running, but that doesn't mean there's no risk to foot or ankle injury. Avoid long-distance walking to prevent a foot injury from overuse. Start with short walks and add on distance slowly over time.
Walking outside will also give you a healthy dose of Vitamin D and will provide you with plenty of fresh air after being stuck indoors all winter. If you don't have time for a longer walk, take shorter walks to help you reach your goal of 150 minutes of exercise each week (this is better for your feet, anyway!).
HAVE A FOOT OR ANKLE INJURY? CALL ABOITE PODIATRY
If you've injured your foot or ankle this spring, the physicians at Aboite Podiatry in Fort Wayne are ready to help you begin your healing journey.
Our doctors at Aboite Podiatry are trained to identify and treat conditions such as plantar fasciitis and other foot-related issues. Make an appointment to meet with one of our skilled podiatrists today by calling 260-436-3579.