At-Home Remedies To Heal Cracked Heels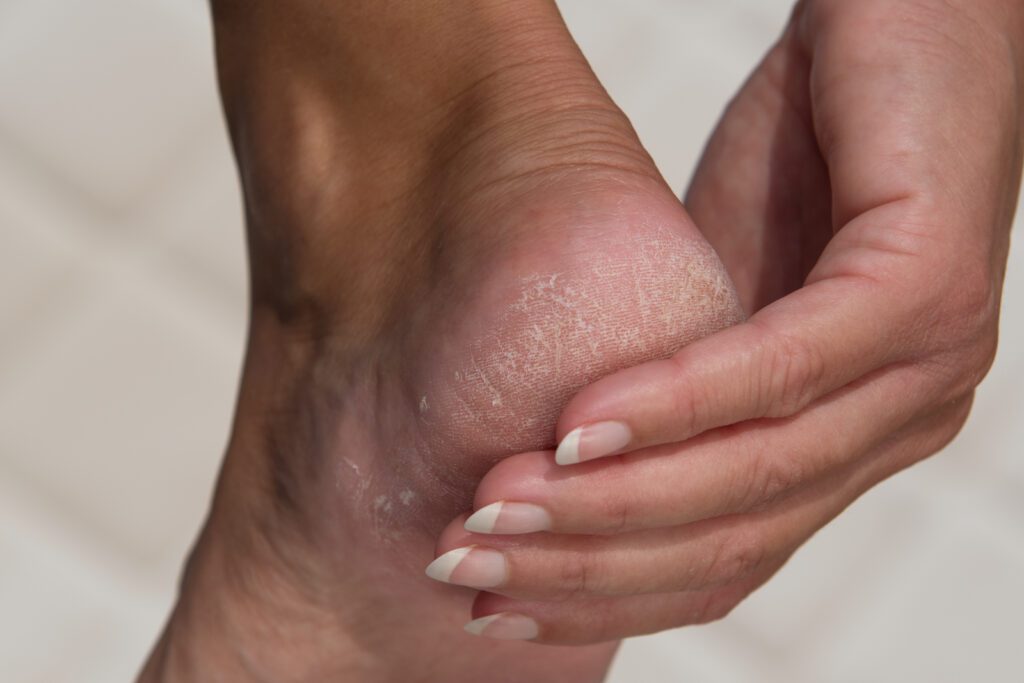 Walking in a winter wonderland isn't fun with cracked heels. In fact, it's downright painful.
Let's not even talk about the embarrassment of removing your shoes and socks in public — no one wants to see your dry, cracked heels.
So, what can you do? Fortunately, several at-home remedies may offer relief and bring life back into your tootsies (just in time for the holidays)! And the best part? These remedies are as close as your kitchen.
Listerine & Vinegar
Mix one cup of Listerine, one cup of white vinegar, and two cups of water. Soak your feet in the mixture for 15 minutes. Remove your feet, pat dry, and scrub them with a pumice stone to exfoliate the dead skin. Rinse with clean water, pat dry, and apply moisturizer. Repeat these steps daily until your heels heal.
Why does this work? Listerine contains thymol and alcohol, which help fight toenail fungus, cure cracked heels, soothe skin, and treat plantar warts. In addition, the mild acids present in vinegar soften dry and dead skin, making it easy to exfoliate.
Rice Flour, Honey, & Vinegar
You can create a scrub by mixing 3 tsp of rice flour, 1 tsp of honey, and 2-3 drops of apple cider vinegar. Stir to form a thick paste. Soak your feet in lukewarm water for ten minutes, and then use the paste to scrub your heels gently, removing the dead skin. Repeat these steps two or three times each week until you see an improvement in your heels.
Why does this work? Rice flour exfoliates, purifies, and re-mineralizes the skin. Honey is a natural antiseptic that helps heal cracked feet. Vinegar is a mild acid that softens dry and dead skin, making exfoliation easy.
Go Bananas!
Yes, bananas. But make sure they're ripe, as unripe bananas have acid that is harsh for your skin.
Mash two ripe bananas into a smooth paste. Gently rub the paste all over your feet and let it sit for 20 minutes. Rinse with clean water and pat dry. Repeat this daily for two weeks or until you are satisfied with how your feet feel.
Why bananas? A banana is a natural skin moisturizer, complete with vitamins A, B6, and C, which help maintain your skin's elasticity and overall hydration.
Honey
Add one cup of honey to a tub of warm water. Soak your clean feet in the mixture, gently massaging for twenty minutes. Then, using a pumice stone, gently exfoliate your feet. Finally, pat your feet dry and apply a thick moisturizer.
Why does honey help? Honey is a natural humectant, meaning it draws from the inner tissues to the outer layers of the skin. That creates a plumping effect that helps the outer skin heal.
Vaseline & Lemon Juice
Soak your feet in warm water for about 20 minutes. Pat dry. Add 3-4 drops of lemon juice to 1 tsp of Vaseline and mix well. Rub this mixture into your heels and other problem areas of your feet. Cover with a pair of woolen socks and wear them overnight. In the morning, clean your feet with warm water. You can try this remedy nightly until you're happy with the results.
How and why? Vaseline acts as a moisturizer, and the citric acid in lemon juice promotes skin peeling and regrowth of new skin cells.
What Makes A Good Moisturizer For My Heels?
When you're shopping for a foot moisturizer, look for exfoliating ingredients like salicylic and glycolic acids. Hydrators and humectants will soften the skin (think shea butter or petroleum). Then, to get your feet looking and feeling better quickly, start a nightly regime of layering on a foot cream, donning a pair of socks, letting the magic happen overnight while you sleep. Do this all winter long, and you'll be rocking your sandals come spring.
If you've tried these remedies and are still having some issues with your feet, don't fret! Our podiatrists at Aboite Podiatry can help diagnose and treat a variety of foot problems. Give our office a call today at 260-436-3579 to schedule an appointment — no referral necessary.