Dr. Jacqueline Monroe Sees The Foot As The Foundation of Health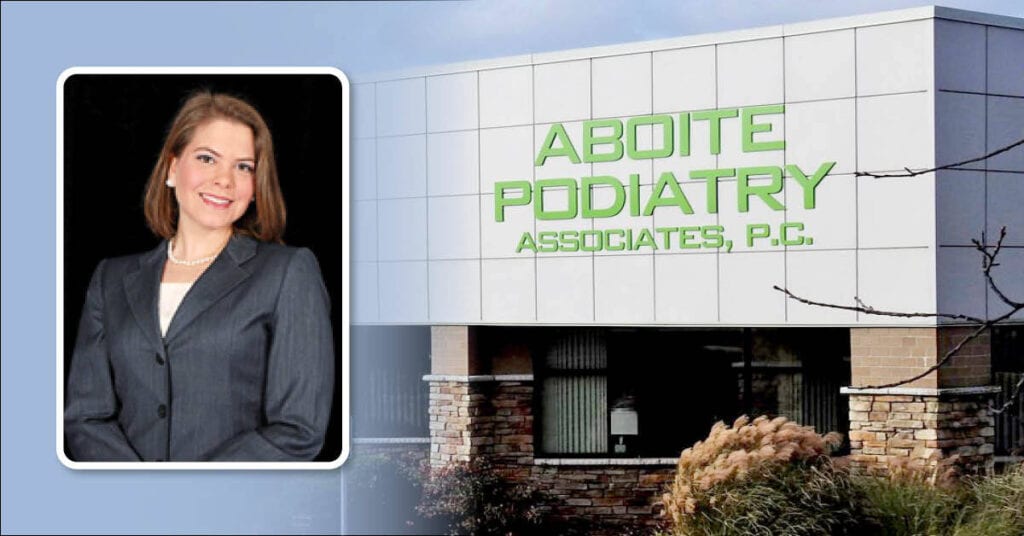 Dr. Jacqueline Monroe works hard for her patients.
"It's hard for me to stop thinking about what's happening to my patients when I'm not at work," she says. "I care about outcomes for my patients. I care about how they're doing and I worry about them if they're not progressing and getting better."
Dr. Monroe has been treating patients as a podiatrist at Aboite Podiatry Associates in Fort Wayne since returning to the area in 2012.
She grew up in Fort Wayne and attended Concordia Lutheran High School. She went to IPFW, where she earned a Bachelor of Science degree in biology, an associate degree in chemistry, and a minor in psychology.
"This is my hometown, so when I was in undergrad I got to spend a lot of time with my family, which was a blessing," she said. "I lived at home, which was really nice because it afforded me time with my younger sister and my parents."
After her time at IPFW, Dr. Monroe went on to study at The Ohio College of Podiatric Medicine in Cleveland before doing her podiatric surgery residency at University Hospitals Richmond Medical Center in Richmond, Ohio.
"I traded one Midwest city for another. Both with cold winters!" she says. "But I enjoyed my time in Cleveland, it's like a second home now."
An opening appeared at Aboite in 2012 and she jumped at the chance to return to her hometown.
"I think Fort Wayne is a great place to live and grow up," she says. "I was really happy to be able to come back and practice here. It's been great being back."
Work life keeps Dr. Monroe busy, but she tries to balance it with raising a family. She has two daughters, ages 3 and 6. Dr. Monroe also likes staying active, reading, and enjoying all of the art and culture that Fort Wayne has to offer.
"You try to do your best to enjoy your work life and make sure that it doesn't overtake everything," she says. "You've got to enjoy your family life, too, and let them know how important they are to you and spend as much time with them as you possibly can."
She says it can be difficult to find time to do a lot of favorite activities now that she has a family. But she's learned to adapt. The books she reads these days tend to be children's stories. And her exercise? Well, the kids help with that.
"They keep us running," she says with a laugh. "We love having them, and they keep us on our toes!"
In addition to her family, her faith in God has been one of the strongest influences in her life. It's a force that's shaped and guided her path from her formative years until now.
Her faith has taught her to be appreciative and to strive to help others and be supportive.
"I want to improve the overall health and quality of other people's lives," she says. "I want to help them physically when they come into the office, and I hope that they're in better spirits when they leave, too."
Being a doctor and helping people is always what Dr. Monroe has wanted to do in life.
"I was one of those rare kids who, at 5 years old, said 'I want to be a doctor,' and actually became what they said they wanted to be," she says. "Even though at 5 years old I didn't really know what that meant, I always had that interest when I was a kid."
Dr. Monroe spent her formative years shadowing doctors in different areas. She wanted to truly understand what it meant to be a doctor. She credits those experiences with giving her a good outlook on what happens when you're a doctor. In fact, when she was in her early undergraduate program, she even job shadowed the doctors at Aboite Podiatry.
Even early in her education she could see the importance of caring for people's feet.
"Your feet are your foundation. If you're having issues with your feet all the time, oftentimes the rest of your body doesn't feel good either," she says. "When I can help someone feel better and stay more active and do the things they want to do on a daily basis, I find it really rewarding."
Her servant's heart and genuine dedication to those she serves allow her to provide top-notch care to her clients. She doesn't have to guess if she's impacting people's lives, though.
"Every once in a while you'll get someone as a patient who expressed to you how much better they feel," she says. "When they tell you that you improved their quality of life and they show their appreciation and you can see it's made a difference in their daily life, it makes you feel great. It makes you feel like everything you've done has been worthwhile. And that you've been able to help that person continue to do the things they enjoy or the things they need to do."
Are you interested in being seen by Dr. Jacqueline Monroe? Schedule an appointment with her today.